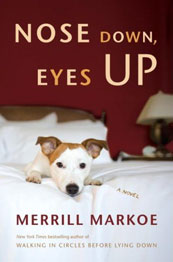 Just finished reading "Nose Down, Eyes Up" by Merrill Markoe. It was delightful. About a contractor who has 4 dogs and is dating a dog 'behaviorist'. Suddenly he finds himself able to understand what his dogs are saying and actually catches his Alpha dog, Jimmy, giving lectures to the neighborhood dogs on how to get the most from their humans.
Markoe has a real talent for giving a voice to dogs. You might actually learn a thing or two about how your dog is actually training you.
I found it enjoyable and would like to say, (without any danger of spoiling the ending), no dogs were harmed in this story.